The Jaw-Dropping Presence of a 7
The most successful airline executive ever believed in loving people even more than he believed in fun.
Welcome to the inaugural issue of Enneathing You Need, a newsletter about the Enneagram in and for real life. If you're receiving this, you signed up recently or when I was starting out teaching a few years ago. Thank You! Since this is a new endeavor, I'm experimenting with structures and formats. Below, you'll find:
A "Show" section with an intro pointing to a featured piece of content (housed elsewhere) that is well worth your time;

A "Tell" section with a short reflection on some facet of the Enneagram, based off of my years of working with and teaching the Enneagram of Personality; and

A "Resource" section pointing to one or more excellent resources for further engagement with the Enneagram.
If you have suggestions for future "Show" features of the healthier side of Enneagram energies lived out in real life, send them my way! —Sam Ogles
---
Show
For years, I've loved Herb Kelleher knowing next-to-nothing about him. Herb is the co-founder of Southwest Airlines, the most successful airline in the world—ever. I blindly loved this man because I identify as an Enneagram type 1, and I'm easily swayed by a good idea. That idea came in the form of a single quote from Kelleher, a man I'd never heard of, that was at once obvious and bewilderingly uncommon: We take care our employees first; our employees take care of our customers; and our customers take care of our shareholders—in that order. Can we all just agree that this should be the basis of every business school's curriculum? (Okay, okay, this 1 will take it easy on the shoulding.)
So who is this über successful and sagacious Herb Kelleher? And, in Enneagram language (since this is an Enneagram-themed newsletter), would he have identified as a success-driven 3? A bighearted 2? A wisened 5?
We can never truly tell another person's type, of course. At least, not without them disclosing it. As my friend likes to remind me: It's always about motivation—not behavior. People show us only a fraction of their inner world. Our views of their outward behavior as a window into their whole being are just too limited.
But we can also pick up on the energy we experience from a person. And when I read this profile of Herb, I was floored—stunned. Here was a man whose behavior screamed 7—the fun-loving, can't-get-bogged-down, horizon-seeking Enneagram type—but with a twist. This was a man who was constantly getting caught being too present to people.
If you're like me, you've had more than one 7 friend who has been here one minute and racing away to do something more exciting the next. There's a futuristic orientation that drives 7s (and 3s and 8s), meaning that they can have difficulty with stillness, with letting life catch up with them, with living fully in the now. Heck, we all have trouble with that.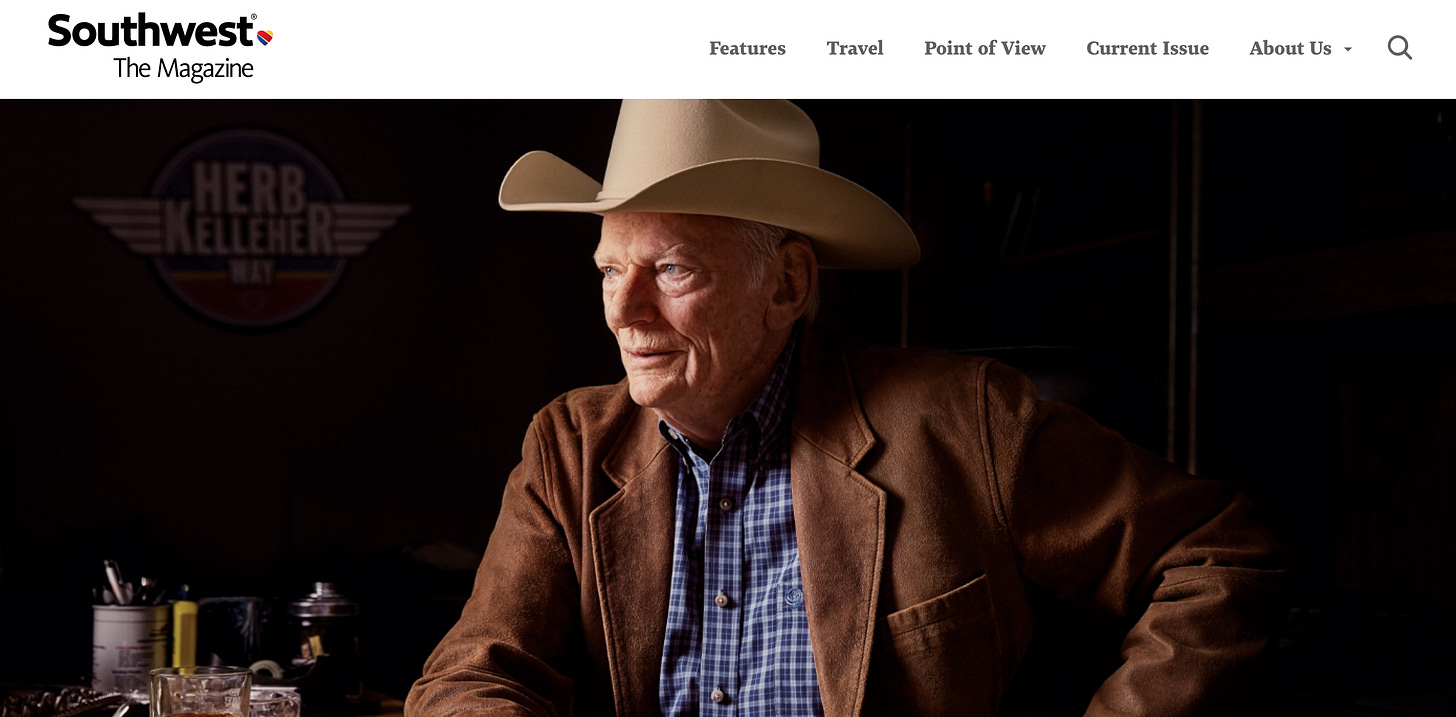 But not Herb. At least, not as he's depicted in the article below.
Herb Kelleher is described as immensely colorful, dynamic, playful, creative, and—perhaps most important—loving. People—actual people, like the one standing in front of him at any given time—were important to him.
Herb would end up late to every meeting because he wouldn't stop making eye contact and asking you about yourself. He would stay up late into the night, drinking and swapping stories with employees nearly until the next business day began. He would tell you he loved you—and mean it. He saw being in relationship with people as a privilege not to be taken for granted.
And when threatened with a lawsuit over the use of an already copyrighted phrase ("Just Plane Smart"), he challenged the litigious company's leader to an arm-wrestling match for the rights—complete with faux training montage for his employees—and actually got his opponent to go along with it. They met in a boxing ring and turned it into a press event, then donated the proceeds to charity. Who even does that?!
Herb. I was attracted to him for a principle, but I became inspired by him because of this story. I don't know if Herb was a 7 or any of the other Enneagram types. But he was a servant leader who combined the best of fun with a desire for real connection. For however you identify on the Enneagram, that's a lesson worth learning.
Enjoy this profile; it's an amazing read. I guarantee you'll learn something about connection. And you'll smile no less than 27 times.
---
Tell
Russ Hudson is one of the best known Enneagram teachers in the world. Maybe the best known. The founder of the Enneagram Institute, he has an important saying worth committing to memory: You have a type; you are not your type.
It's easy to identify with our type, that is, to over-identify with it. People always say "the Enneagram type you like least out of the 9 is the one you probably are." That's been true for a lot of people, but it was never true for me.
When I found my Enneagram type, I actually liked it; I liked "being" a 1. (I suppose it felt like the "right" type to be.) Later, I would feel guilt for not disliking my type—as if that was somehow the "wrong" way to be.
There certainly seems to be a lot of Enneagram love going on now, and thank goodness. It's one of the most powerful tools for personal transformation I've ever encountered. The world would be better if more people had the kind of tools that allowed them to delve safely into their inner world and clear away the cobwebs.
But there's a new risk with the Enneagram's popularity: over-identifying with type.
More and more I hear people using their type as a marker of pride: Oh, that's because I'm a 3. I can't help but try to make this successful! There are mugs and t-shirts for your type. But having a mug with your Enneagram number on it—which is a roadmap of your biggest insecurities and obstacles—is a bit like owning a mug with "abandonment issues" or "severe social anxiety" printed on it. There's no reason that should be a source of shame for you; it's just a bit odd if it's a source of pride.
I know people who consider their Enneagram type to be as personal as their medical histories. That seemed weird at first, but then I wondered if they weren't more clear-eyed than I was.
The truth is, you are more than your type. There's nothing wrong with saying, "I'm a 4," or "I'm an 8," rather than the more accurate "I identify as a type 8." Common parlance is unavoidable. But I wonder if there isn't a danger in getting too attached to your type in other ways. After all, the goal of the Enneagram isn't to become a super awesome version of your type—as if you were a superhero who only used your type's powers for good. The goal of the Enneagram is to develop to such a degree that you have increasingly frequent moments of breaking free from your type, like a seed bursting through its shell. Our type is a suit of armor we've worn so constantly that it feels like our skin; it's hard to imagine life without it. But the armor isn't organic; it's not you.
What would it look like to "break out" of your type? What would it look like for you to have done so much inner work, to have found so much inner freedom, that people around you didn't see your inner false-self coping patterns oozing out of you?
James Finley, a trauma psychotherapist and Christian mystic says that the trouble with people is we think we are what's wrong with us. The Enneagram is just a more sophisticated map stating the same thing.
So, first, give yourself a break. And then give yourself an out. What would it look like for you to recognize your Enneagram type today, but to not be stuck in it? What would it look like to envision a "you" who is not bound by the automatic behaviors and false patterns you've come to recognize in yourself?
Maybe for a moment you would cease to see yourself as your type, as what's wrong with you. Maybe you'd catch a glimpse of where we're all headed—in this life or the next: beyond type.
---
Resource

You should register for the FREE Enneagram Global Summit—a series of live online events from June 24–28, 2019. Seriously.
Most of the biggest names in Enneagram teachers and experts are giving free online sessions—alongside some people you've never heard of, but will want to know. Russ Hudson, Helen Palmer, Suzanne Stabile, Chris Heuertz, A. H. Almaas, Claudio Naranjo, Beatrice Chestnut, Cynthia Bourgeault, Ginger Lapid-Bogda, Ryan O'Neal (Sleeping at Last), and on, and on. There's a paid registration ($97) only if you want access to certain streaming, otherwise it really is free to register.
In my experience, the Enneagram Global Summit has excellent teachers with so-so facilitation for the sessions and perhaps depth that is less-than-hoped-for in the sessions. But take that with a grain of salt because that's based off of a few sessions during the last two years. If you check out the number of presenters, I didn't even catch 5% of the sessions in the past.
Bottom line: If it interests you or you want the chance to learn from one (or more) of the world's premier Enneagram teachers, this is a once-a-year thing for free. You could always register and just see what you're able to catch live. (Note: The event is presented by the "Shift Network" with a much more fluid spirituality than most. Be aware of that and the fact that they send a lot of emails.) It's a great opportunity if it calls to you. What have you got to lose?
---
Samuel Ogles is a writer, speaker, spiritual director, and Enneagram teacher living in the western suburbs of Chicago. He co-hosts the Ask a Spiritual Director podcast, and he loves communicating, spirituality, and empowering others with deeper insights and a vision for change. You can learn more at SamuelOgles.com.